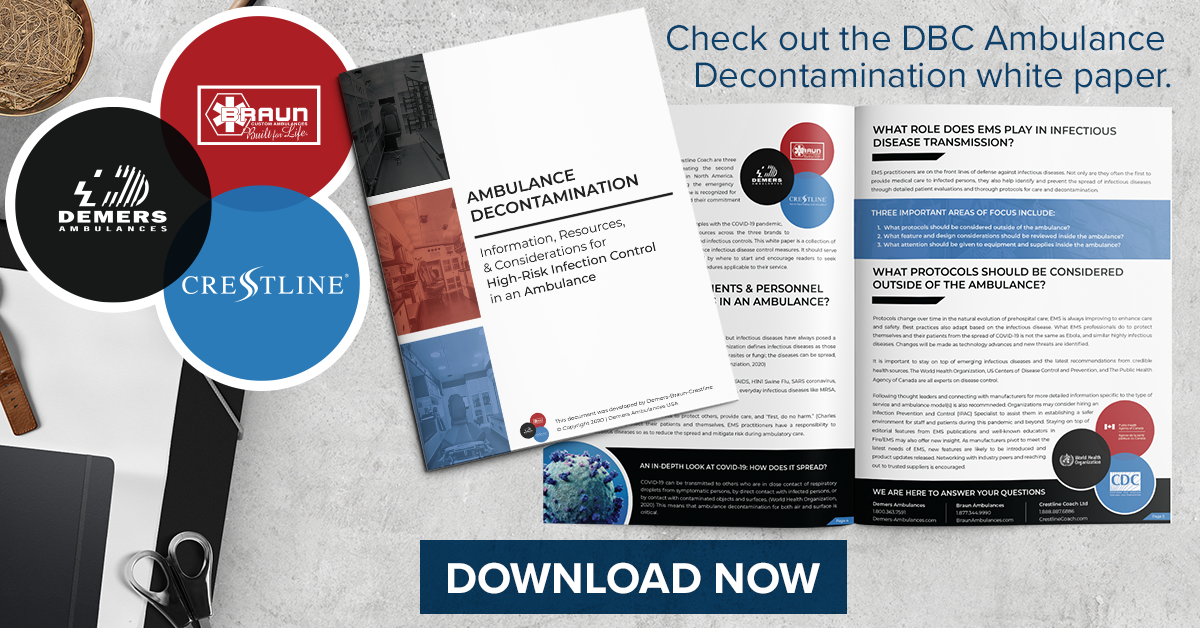 Demers Ambulances, Braun Ambulances, and Crestline Coach release white paper to inform Fire/EMS organizations of best practices and recommendations to better protect patients and personnel from infectious diseases while in ambulances.
FOR IMMEDIATE RELEASE OCTOBER 21, 2020 – VAN WERT, OHIO: Demers-Braun-Crestline (DBC) has released a 16-page white paper titled Ambulance Decontamination: Information, Resources, & Considerations for High-Risk Infection Control in an Ambulance. Fire/EMS professionals have the opportunity to download the free white paper to learn more about best practices, and recommended solutions to integrate into their own strategic plans, as they continue to combat infectious diseases.
While the worldwide emergency response community remains on the frontlines of the COVID-19 pandemic, DBC has been busy behind the scenes dedicating engineering resources to focus on ambulance decontamination. Long committed to safety and innovation, DBC evaluated a wide range of products, design options, and protocols to help protect patients and EMS personnel from infectious diseases in an ambulance setting. That collective knowledge was organized into the new white paper, which contains information, resources, and recommendations on ambulance infectious disease control measures. It should serve as an introductory guide for organizations overwhelmed by where to start with ambulance decontamination.
The 16-page white paper answers several important questions, but centers on one primary topic: What feature and design considerations should be reviewed inside an ambulance? Identifying five key areas, each section educates readers on ambulance options and features that assist in limiting the spread of viruses, bacteria, parasites, and fungi. From plexiglass dividers to HEPA filters, chemical fogging systems to self-disinfecting surfaces, and everything in-between, the white paper outlines a variety of solutions that every emergency response organization should consider for enhancing safety inside their ambulances.
Prior to the public release of the document, Demers-Braun-Crestline provided advance copies to two well-known leaders in EMS, AJ Heightman and Chief Randy Mellow. AJ Heightman, Editor Emeritus at JEMS (Journal of Emergency Medical Services) and Adjunct Instructor of Clinical Research and Leadership at George Washington University School of Medicine and Health Sciences, said, "Demers-Braun-Crestline has been one of the leaders in our industry for over 100 years, presenting customers with innovations, special design and safety features, and options. This white paper is another example of their thought leadership – focusing on management and the elimination of infectious diseases in ambulances."
Chief Randy Mellow, President of the Paramedic Chiefs of Canada and Chief of the Peterborough County/City Paramedics, said, "It is a certainty that the Paramedic community requires agility and adaptability to keep pace with the complexity and evolution of care as never seen before. The COVID-19 pandemic has demanded the attention of thoughtful leaders to reflect and refocus, to ensure that as the emergency services industry grows and evolves, so does the emerging knowledge and investment in high-risk infection control. The DBC Ambulance Decontamination white paper provides guiding principles, practical recommendations, and resources to help EMS organizations form strategies that will enhance safety for patients, responders, and our communities."
The white paper is available in several versions including a U.S. and Canadian foreword, and French translation. Individuals or organizations interested in learning more about ambulance decontamination should visit DBCAmbulances.com or download a free copy now. For more information about the white paper, please contact Vanessa Bomboir, Marketing Manager for Demers-Braun-Crestline at (306) 986-5677 or vbomboir@crestlinecoach.com
About Demers-Braun:
Demers Ambulances, Braun Ambulances, and Crestline Coach are three distinct brands owned by Demers-Braun. The second-largest ambulance manufacturing organization in North America, Demers-Braun has been recognized for leadership in innovative design and quality products. With over 140 years of combined history meeting the needs of customers in over 42 countries, Demers Ambulances, Braun Ambulances, and Crestline Coach offer a wide-range of ambulances, specialty vehicles, and small to mid-sized buses. To learn more about the respective brands, visit their websites at Demers-Ambulances.com, BraunAmbulances.com, CrestlineCoach.com, or CCL150.com.