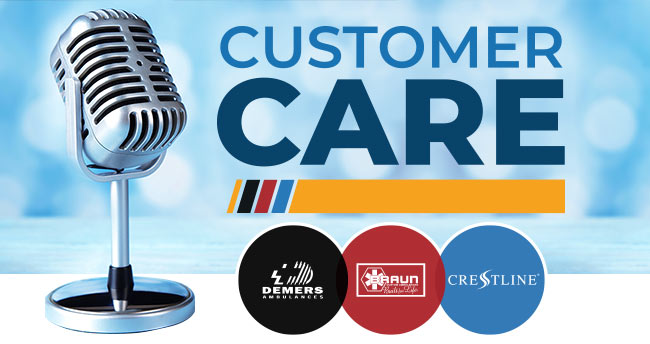 FOR IMMEDIATE RELEASE MARCH ​4​, 202​1 – ​BELOEIL, QUÉBEC:  As your Partner of Choice, DBC is excited to announce our After Sales Service teams of Demers Ambulances, Braun Industries, and Crestline Coach are rebranding as Customer Care.
More than a name change, Customer Care is our promise to providing Excellence in Service and After-sales parts support, driven by our Total Commitment to reduce unscheduled downtime so your fleet is always operational.
To optimize your Customer Care experience please review the following changes below:
Access to Demers and Crestline customer care phone technicians through the same dial-in menu for callers from the US, Canada east or Canada West.
No number changes, Customer Care is built in as an option.
Seamless call transfers via area code, in language of caller, to appropriate Customer Care dept. location for optimal live answers, if needed, automatically linking East or West phone pool in all time zones.
24/7 after-hours emergency direct line.
Mobile field support to/from factory Demers, Crestline ambulances and bus road technicians and select authorized service centers.
Factory-trained dedicated service technicians at DBC Customer Care sites for required certified service or remount/ refurbishing jobs.
DBC is committed to excellence in Customer Care, and as we enhance your customer experience, we promise to keep you informed.
For more information about the white paper, please contact Vanessa Bomboir, Marketing Manager for Demers-Braun-Crestline at (306) 986-5677 or 
vbomboir@crestlinecoach.com
.
About Demers-Braun:
Demers Ambulances, Braun Ambulances, and Crestline Coach are three distinct brands owned by Demers-Braun. The second-largest ambulance manufacturing organization in North America, Demers-Braun has been recognized for leadership in innovative design and quality products. With over 140 years of combined history meeting the needs of customers in over 42 countries, Demers Ambulances, Braun Ambulances, and Crestline Coach offer a wide-range of ambulances, specialty vehicles, and small to mid-sized buses. To learn more about the respective brands, visit their websites at 
www.Demers-Ambulances.com
, 
www.BraunAmbulances.com
, 
www.CrestlineCoach.com
, or 
www.CCL150.com
.