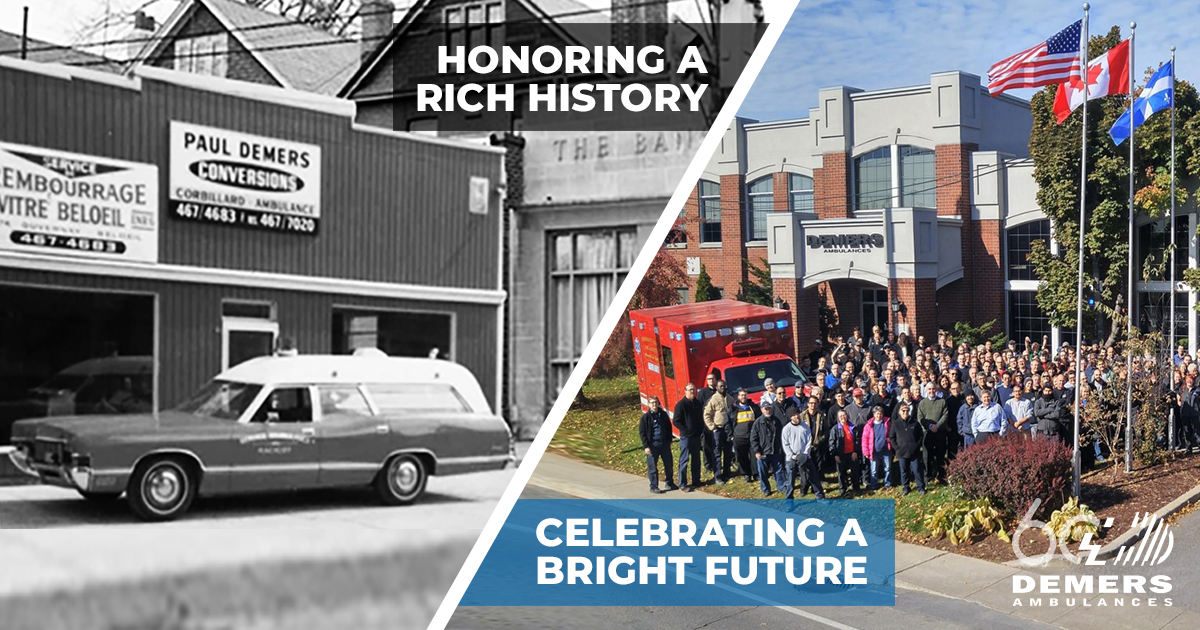 Demers Ambulances is celebrating the 60th anniversary of the company's founding in 1960.
FOR IMMEDIATE RELEASE SEPTEMBER 15, 2020 – BELOEIL, QC: Demers Ambulances, an industry leader in global ambulance manufacturing, is celebrating 60 years in business of designing and building some of the safest, reliable, and efficient ambulances on the road today.
Founded in 1960, Demers Ambulances began its journey in Beloeil, Quebec, as a family owned manufacturer of funeral hearses, and later medical transportation vehicles. With family members still employed at Demers, it is the oldest continuous ambulance manufacturer in North America, with ambulances in service worldwide. From humble beginnings, to an organization of close to 1000 employees, following a recent merger with Braun Ambulances and Crestline Coach, one thing has remained the same: a strong belief that innovation and excellence are paramount, and an unwavering commitment to make life better, one vehicle and one relationship at a time.
"Demers is one of the most trusted ambulance brand, design and manufacturing enterprises in the world," shared Alain Brunelle, CEO Demers Braun Crestline. "We have dedicated ourselves to 60 years of product innovation, engineering, and manufacturing process improvements to provide our customers with the highest quality and service. This is an incredible milestone for any organization, and we are especially honored to share this milestone with our employees, our community of partners and customers, and to everyone who has shared in both our trials, and celebrated our triumphs over many years."
Since its inception, Demers Ambulances has delivered over 20,000 ambulances to more than 20 countries. With state-of-the-art ambulances, the company offers both a high level of safety to patients and paramedics, as well as efficient and reliable vehicles to its customers. Demers' 60 years of experience and customer feedback on the national and international markets have led to continual upgrades, improvements, and innovations, driven by the philosophy that every single detail contributes to a superior vehicle. Detail by detail, Demers is raising the bar, making ambulances which exceed the sum of their parts and are standouts in the industry.
"We are humbled as we reflect upon our recent journey taken together as Demers – Braun – Crestline," said Kim Braun,  President of Demers Braun Crestline – USA. We could not have reached this important milestone without our Dealer partners, or loyalty from our customers. In fact, this month we are delivering the 350th Type II Demers ambulance manufactured out of our new production facility in Van Wert, Ohio."
To celebrate sixty-years in business within the ambulance and manufacturing community, Demers will pay tribute over the coming months by highlighting partners, products, and people who have made success possible, from the early beginnings, all the way to the bright future ahead.
"Sixty years in business is an extraordinary achievement," said Steve Hoffrogge, President of Demers Braun Crestline – Canada. "Demers is an example that success spanning six decades is possible and can be achieved through the incredible dedication of our employees with a culture of family values, and customer focus, coupled with laser focus on innovation and excellence."
Learn more about our history and future by visiting demers-ambulances.com and follow us on social media.
About Demers Ambulances
Demers Ambulances and Braun Industries merged in 2018, creating the second-largest ambulance manufacturing organization in North America. Crestline Coach, a global leader in ambulance and specialty vehicle manufacturing and a Canadian distributor of small to mid-sized commercial buses, joined the brand lineup in early fall 2018. These three great brands are recognized for leadership in innovative design, quality products, and for their over 100-years of rich history serving the emergency response market in over 40 countries worldwide.  Demers, Braun, and Crestline offer ambulance models ranging from the price-conscious value ambulance to the very highly-customized specialty vehicle.  To learn more about how Demers Ambulances, Braun Industries, and Crestline Coach can help you save more lives, visit www.Demers-Ambulances.com, www.BraunAmbulances.com, and www.CrestlineCoach.com
-30-
Contact Information
Marie-Andrée Sauvé
Marketing Coordinator
Demers Ambulances, Inc.
Toll free: 1 (800) 363-7591 x 359
Email: masauve@demers-ambulances.com