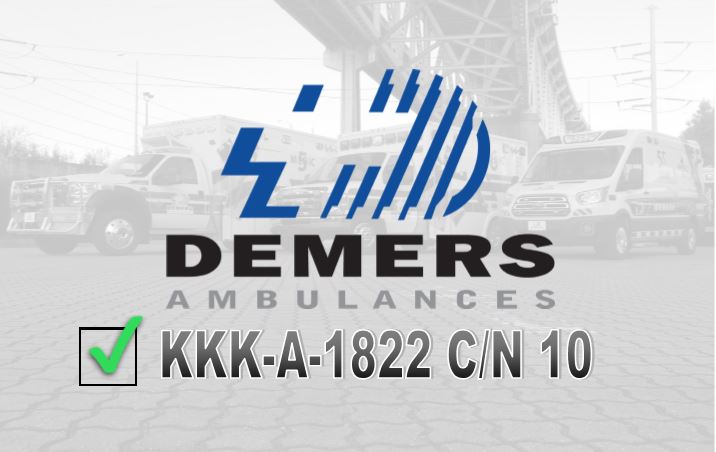 Demers Ambulance, a North American leader in ambulance manufacturing, has met or exceeded all performance requirements for KKK-A-1822 C/N 10 certification, a series of modular body strength tests for ambulances.
The purpose of the various standards imposed Society of Automotive Engineers (SAE), including Surface Vehicle Recommended Practice J3057 Ambulance Modular Body Evaluation-Quasi Static Loading for Type I and Type III Module Ambulance Bodies, is to provide ambulance builders and end-users with testing procedures and ensure that ambulance structures meet the same performance criteria across the industry.
"At Demers, we are known for our rigorous testing," said Mike Pelletier, vice president of operations, quality and engineering, Demers Ambulances. "We test all of our units to the harshest of standards and believe that the KKK-A-1822 C/N 10 certification is raising the bar for ambulance safety in the US. Our testing and certification program is an important part of our commitment to offering the best ambulances in the industry. "
The Federal Specifications for Star-of-Life Ambulances (KKK-A-1822), more commonly referred to as K-Specs, was established by the General Services Administration (GSA) of the U.S. Department of Transportation.
About Demers Ambulances
Founded in 1960, Demers Ambulances is the second largest ambulance manufacturer in North America, delivering more than 18,000 ambulances to more than 20 countries. Recognized as a leader in innovative products that meet and exceed the expectations of medical emergency specialists around the world, Demers Ambulances is accredited by Transport Canada, recognized as a "Qualified Vehicles Modification" (QVM) by Ford, and also holds the US National Truck Equipment Association (NTEA) Member Verification Program (MVP) certification. To learn more about Demers Ambulances, visit www.demers-ambulances.com.