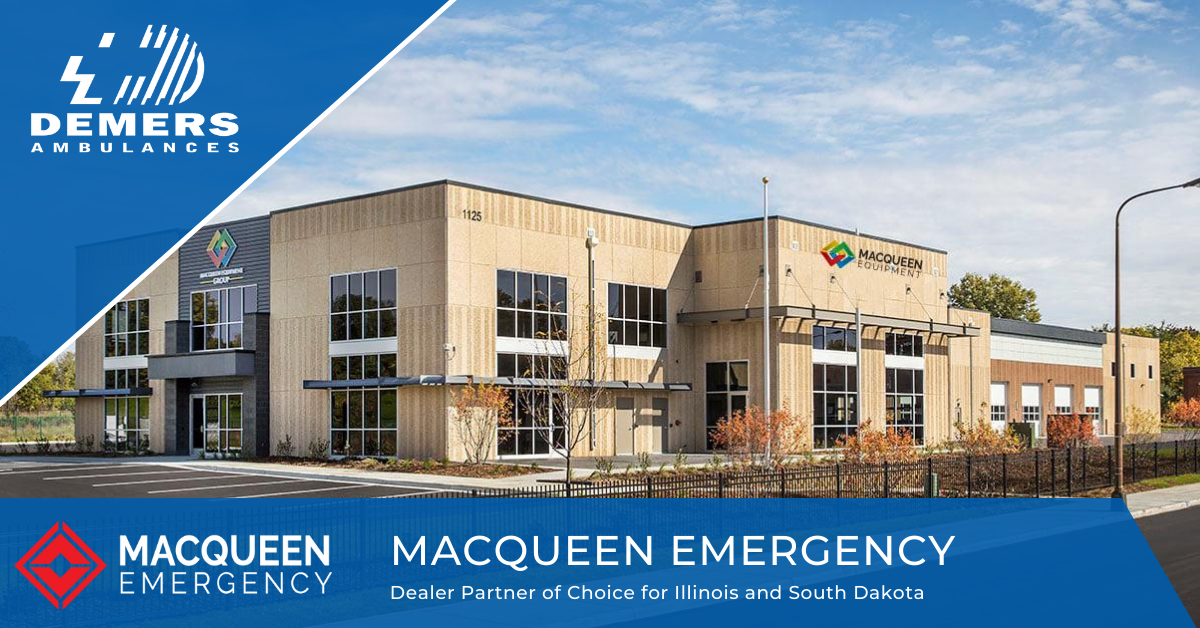 Demers Ambulances names MacQueen Emergency as dealer partner providing new ambulance sales and service throughout Illinois and South Dakota.
FOR IMMEDIATE RELEASE – VAN WERT, OHIO: Demers Ambulances USA, Inc., (the parent company representing Demers Ambulances, Braun Ambulances, and Crestline Ambulances) is an industry leader in the global ambulance manufacturing market. Committed to enhancing their US dealer partner network, Demers is proud to announce MacQueen Emergency will now represent the Demers brand through Illinois and South Dakota.
"We at MacQueen Emergency are happy to be entering into the next phase of the emergency Platform" said Dan Gage, President and CEO of MacQueen Emergency. "The entry into the ambulance market with DBC as a partner, follows another core value of partnering with the number one or two manufacturers in the market, with DBC we feel we have that, and so much opportunity."
MacQueen Equipment started in 1961 in what is referred to today as "Environmental Platform" and is operational in 7 states.  MacQueen entered the EMS market in 2016 when they became a fire apparatus dealer for four states. Today, MacQueen operates 15 locations across 12 states, 78 technicians, and 93 service bays.  One of the core pillars is servicing the customer and they are committed to that every day.
"We are so pleased to announce MacQueen Emergency as our newest dealer partner," says Chad Brown, Vice President of US Sales for Demers Braun Crestline. "MacQueen Emergency is an exceptional dealer partner. Their extensive knowledge in serving fire professionals has made them a well-known name in their region and a one-stop-shop for emergency vehicle needs. They bring a unique element to our network, from new ambulance sales to after-the-sale support from multiple service locations. We know Demers customers will be more than taken care of working with MacQueen Emergency. We look forward to a long and successful partnership with them."
To learn more about Demers Braun Crestline dealer partners or for new ambulance sales and service in Illinois and South Dakota, please contact Madison Braxton, US Marketing Coordinator for DBC at 419-232-7020 or mbraxton@braunambulances.com
About Demers Ambulances USA, Inc.
Through its strong and diversified portfolio of Demers, Braun, and Crestline brands, the Company operates six production and service center sites across North America and employs close to 1000 people. Each year, Demers, Braun, and Crestline's combined brand sales position the company as the second-largest ambulance manufacturer in North America. Its offering of ambulance products ranges from the price-conscious value ambulance to the very highly-customized specialty vehicle. To learn more about how Demers, Braun, and Crestline can help you save more lives, visit Demers-Ambulances.com, BraunAmbulances.com, and CrestlineCoach.com.
About MacQueen Equipment
Established in 1961, MacQueen Equipment is a diversified dealer of emergency specialty vehicles. MacQueen's Emergency Division distributes new ambulances manufactured Demers Ambulances, while offering the highest quality environmental and emergency products and services to municipalities, contractors, airports, and fire departments in the Midwest. MacQueen's headquarters are located on the east side of St. Paul Minnesota.