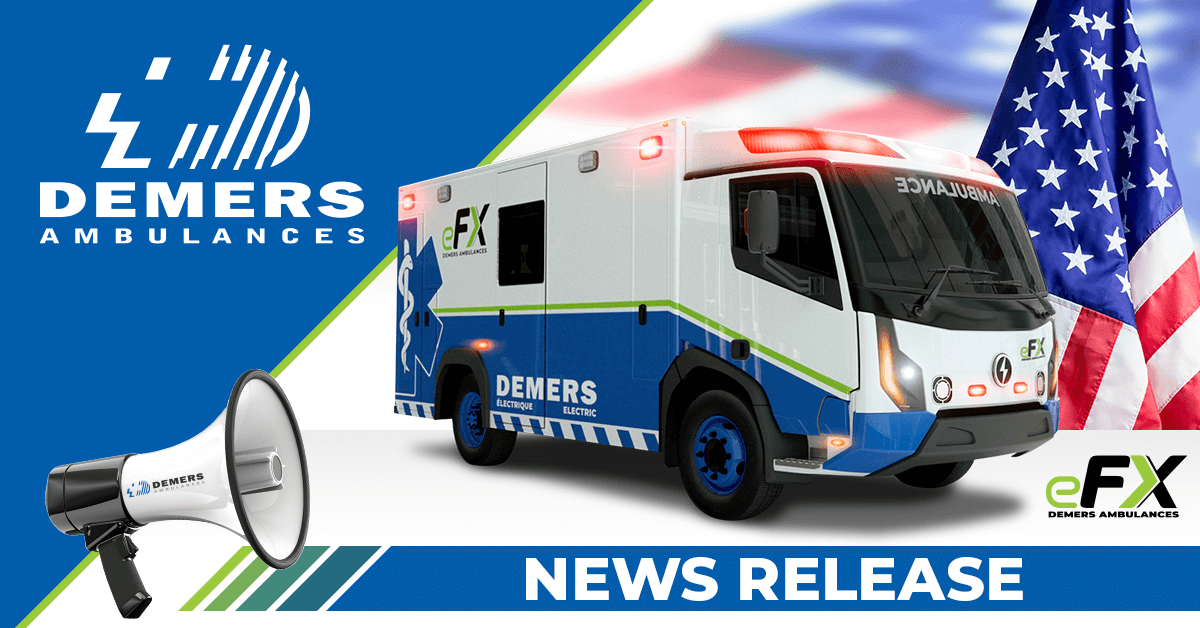 Early Adopters from Emergency Medical Services gathered in New Jersey to preview an all-new electric ambulance prototype, purpose-built for first responders.
July 6, 2022 – Van Wert, Ohio: Demers Ambulances demonstrated the capability of its new all-electric Type 3 eFX ambulance prototype for a select group of Northeast political leaders, fleet managers, policymakers, thought leaders, and first responders during a private fleet electrification event hosted by First Priority Group (FPG) in Flanders, New Jersey. Leaders in the Fire/EMS community and various politicians gathered for the private interactive experience which spurred excitement and opened dialogue regarding fleet electrification and the future of electric emergency response vehicles.
"It is history in the making as our revolutionary all-electric Demers eFX ambulance arrived in the U.S. last week with a private 'hands-on demonstration' for several early adopters based in the Northeast," shared Alain Brunelle, CEO of Demers Braun Crestline Medix. "Interest is growing substantially within many metropolitan communities across the United States. There is a noticeable upswing with funding and grant programs available to support the purchase and infrastructure for electric ambulances."
The all-electric Demers eFX Ambulance built on a next-generation Lion5 chassis and cab with a new innovative medical module layout is the result of nearly six years of collaborative work by Demers Ambulances, the paramedic community, and the Lion Electric Company. Lion is a manufacturer of all-electric, medium, and heavy-duty urban vehicles. Lion fleet units collectively surpassed 10 million miles driven to date. Commonly referred to as a 'paramedic purpose-built ambulance', the Demers eFX type 3 ambulance has a custom-designed chassis with over 160 miles of range, best-in-class turning ratio, a front cab layout with optimal ergonomics and comfort features, and a next-generation medical module that offers 12% more room and new patent-pending FX mobility seat that should allow paramedics to retain utmost mobility while remaining safely buckled-in.
The Demers eFX Ambulance will be made available throughout North America and worldwide, as ambulances produced by Demers and its affiliate brands are already in service and saving lives in 43 countries. The first Demers eFX deliveries are planned for early 2023.
To learn more about the Demers eFX Ambulance please visit Demers-Ambulances.com/eFX-Ambulance.
#
About Demers Ambulances
Demers Ambulances is one of the largest and most trusted ambulance manufacturers worldwide. With 20,000+ ambulances delivered to more than 20 countries, Demers Ambulances is recognized as a leader in innovative products that meet and exceed the expectations of medical emergency specialists around the world. Over the past six decades, Demers Ambulances has never stopped innovating, releasing eleven successive generations of ambulances, each one more technologically advanced than the last, improving the experience of paramedics and their patients each time. Demers Ambulances has 350 employees with headquarters located in Beloeil, Quebec, and manufacturing plants in Canada and the United States.
About Demers Braun Ambulance Manufacturer
Through its strong and diversified portfolio of brands – Demers, Braun, Crestline, and Medix- the Company operates eight production and service center sites across North America and employs a staff of ~1200. Each year, the combined sales positions the company as the second-largest ambulance manufacturer in North America. Its offering of ambulance products ranges from the price-conscious value ambulance to the highly customized specialty vehicle. To learn more about how Demers, Braun, Crestline, and Medix can help you save more lives, visit Demers-Ambulances.com, BraunAmbulances.com, CrestlineCoach.com, and MedixAmbulance.com
MEDIA REQUEST CONTACT INFORMATION
Vanessa Bomboir
Director Marketing, U.S.
Phone: 306-230-7723 | Email: vbomboir@crestlinecoach.com
SALES CONTACT INFORMATION
Greg Tucci
Director U.S. Sales, DBC
Phone: 570-640-8099 | Email: gtucci@demers-ambulances.com