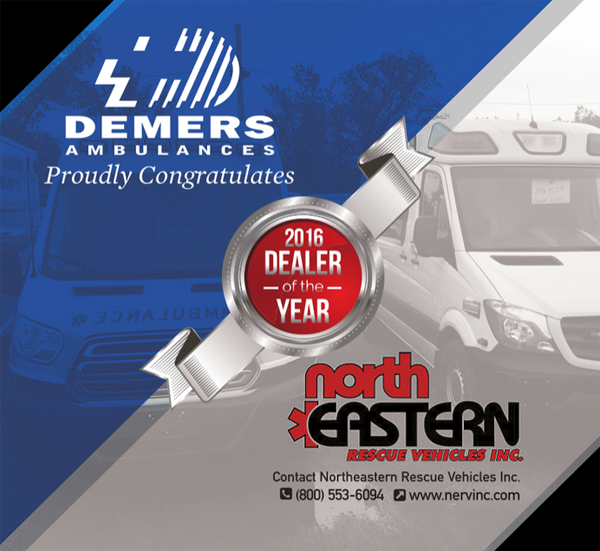 Montreal, May 31st, 2017– Demers Ambulance, a North American leader in ambulance manufacturing, has announced North Eastern Rescue Vehicles as the company's 2016 Dealer of the Year. The award focuses on excellence in dealership performance, as well as business and sales performance.
 "A large part of our success is driven through our dealer program," said Benoit Lafortune, Demers Ambulances executive vice president. "We've had a successful partnership with North Eastern Rescue Vehicles for many years, and we are proud to recognize them for their commitment to not only selling our ambulances, but also embracing our key values."
The Demers Dealer of the Year award was presented at North Eastern Emergency Vehicles' office in Syracuse, New York.
"The entire team at NERV is honored to be recognized with this award," said Bob Reilly, owner of North Eastern Rescue Vehicles. "I am particularly proud that the work our service, graphics and support service personal are recognized as part of this award. We are appreciative that the leadership of Demers traveled to our facility to personally recognize our entire staff. "
About North Eastern Rescue Vehicles Inc.
Headquarted in Syracuse New York, North Eastern Rescue Vehicles, Inc. is one of the largest independent ambulance dealers in the country.  NERV has 10 extremely qualified salespeople serving New York and New England. Since 1987, their business has been built through service one customer at a time. NERV strives to be the one-stop source for all their customer's needs. Customer loyalty and repeat sales are what drives the company. To learn more about North Eastern Rescue Vehicles Inc., visit www.nervinc.com.
About Demers Ambulances
Founded in 1960, Demers Ambulances is the second largest ambulance manufacturer in North America, delivering more than 18,000 ambulances to more than 20 countries. Recognized as a leader in innovative products that meet and exceed the expectations of medical emergency specialists around the world, Demers Ambulances is accredited by Transport Canada, recognized as a "Qualified Vehicles Modification" (QVM) by Ford, and also holds the US National Truck Equipment Association (NTEA) Member Verification Program (MVP) certification. To learn more about Demers Ambulances, visit www.demers-ambulances.com.