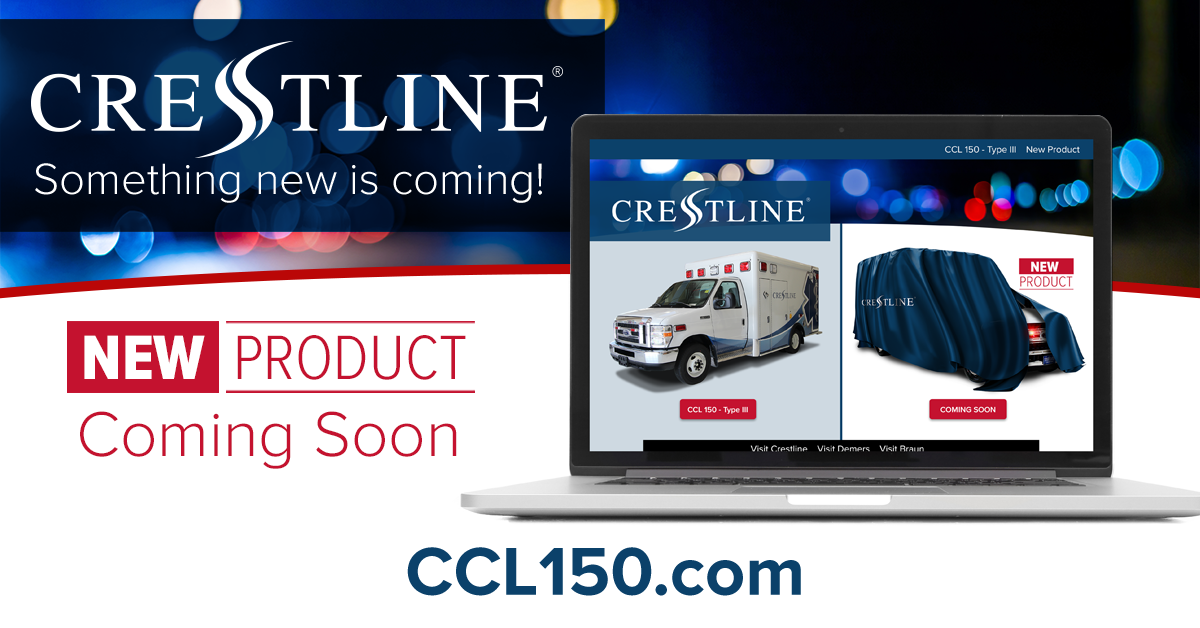 Van Wert, Ohio June 10, 2020 − Demers Ambulances USA Inc. (''Demers'') will unveil a new ambulance model from the CCL 150 product line of Crestline brand ambulances on June 24, 2020. The CCL 150 line of ambulances aims to provide a sigh of relief for U.S. based EMS organizations who desire safe and durable ambulances, at an affordable price.
In today's ambulance market, EMS providers are often faced with too many considerations when purchasing a new fleet. Safety of the crew, product durability, and affordable pricing are top priority for the average fleet, but when quality is unaffordable, EMS professionals are pressured to choose between these necessary elements, until now…
In 2018, Demers−Braun acquired Crestline Coach Ltd., a Canadian leader in ambulance design, sales and manufacturing. By October 2019, Demers Ambulances USA launched the new CCL 150 Type III ambulance in the U.S. market. With a strong, in-demand response from EMS providers, the Crestline product line is represented and distributed through Demers Ambulances USA, and its Dealer partners.
Loaded with standard features, the Crestline CCL 150 is fully compliant with the latest safety standards, and backed by Lifetime Paint warranty, and Lifetime Structural warranty. Built to last, this model will earn its reputation as an industry workhorse, with safety and durability built directly into the ambulance through a multitude of standard features including:
Full ALS size ambulance with industry-leading payload and available storage
All-aluminum extruded body construction with all-aluminum cabinetry
CrestCoat, a durable powder coating finish on ambulance interior and exterior with CrestClean, an antimicrobial agent that prevents bacteria and destructive microorganisms
Factory backed Lifetime Paint Warranty and Lifetime Structural Warranty
Multiplex Electrical System
Mark your calendar for Wednesday, June 24, 2020, at 1 pm EDT to experience the virtual launch of the latest product from the Crestline CCL 150 product line. Visit CCL150.com to stay informed on the Type III product line and the upcoming model release.
About Demers Ambulances
Braun Industries and Demers Ambulances merged in early 2018, creating the second-largest ambulance manufacturing organization in North America. Crestline Coach, a global leader in ambulance and specialty vehicle manufacturing and a Canadian distributor of small to mid-sized commercial buses, joined the brand lineup in early fall 2018. These three great brands are recognized for leadership in innovative design, quality products, and for their over 100-years of rich history serving the emergency response market in over 33 countries worldwide.  Demers, Braun and Crestline offer ambulance models ranging from the price conscious value ambulance to the very highly-customized specialty vehicle.  To learn more about how Demers Ambulances, Braun Industries and Crestline Coach can help you save more lives, visit www.Demers-Ambulances.com, www.BraunAmbulances.com and www.ccl150.com
Contact:
Vanessa Bomboir I Marketing Manager U.S. I Demers – Braun – Crestline I (306) 230-7723