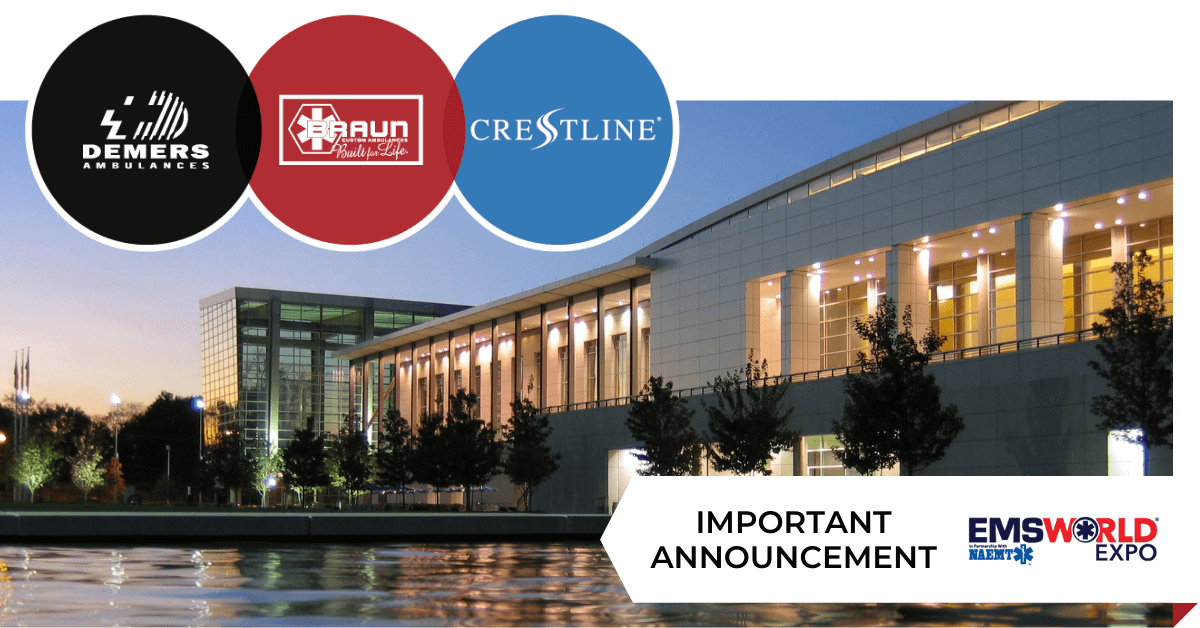 Regarding the health and safety of our employees and dealer family, we regret to announce Demers, Braun, Crestline will not be attending EMS World Expo 2021 on October 4-8, 2021, in Atlanta, Georgia. Instead, we will support the event from a distance, remaining a long-time advertiser with EMS World media, and as a champion for the EMS profession.
"We are disappointed that we will not be at EMS World Expo this year," says Chad Brown, Vice President of US Sales for Demers, Braun, Crestline. "It is a great tradeshow, and we were looking forward to being together for the event. Fortunately, we will still be participating from afar. It is an annual tradition to sponsor the NAEMT EMT of the Year award, which is presented at the event. We also have two products named EMS World Expo Innovation Awards finalists, the Braun Ambulance TLC ambulance model, and IMPACT Airbag System safety feature."
The NAEMT EMT of the Year award will be presented on Tuesday, October 5, 2021, to an emergency medical technician who demonstrates excellence in the performance of emergency medical services, with their primary role being that of prehospital patient care. The award recipient receives $1,000 in cash, three core program registrations, and $1,200 for travel and lodging at the EMS World Expo and NAEMT Annual Meeting held the same year as the award. This year's winner is Tracie Sanders, EMT from Normanna, Texas. Congratulations Tracie!
The Braun Ambulance TLC is a critical care transport (CCT) unit designed for interfacility transport. The model debuted at EMS Today in March 2020, right before the pandemic, but was eligible for the awards this year. To learn more about the TLC model, please click here.
The IMPACT Airbag System is a new safety feature unique to Braun Ambulances. It was released at FDIC 2021 and is available now on select ambulance models. The system includes strategically placed airbags using IMMI's RollTek™ technology, progressive resistance padding at head strike points, and advanced seating restraints in all positions. To learn more about the IMPACT Airbag System, please click here.
For those who wish to attend EMS World Expo in-person or virtually, registration is open on EMSWorldExpo.com.  Virtual benefits include the ability to stream over 40+ classes live from anywhere, access to sessions up to 1 year after the event, connect and network with other professionals in small group meetings, and more.
Please direct questions and comments to Vanessa Bomboir, US Marketing Manager for Demers, Braun, Crestline, at 306-986-5677 or vbomboir@crestlinecoach.com.